13. Reduction of CO2 by a Masked Two-Coordinate Cobalt(I) Complex and Characterization of a Proposed Oxodicobalt(II) Species
Lisa Roy, Malik H. Al-Afyouni, Daniel E. DeRosha, Bhaskar Mondal, Ida M. DiMucci, Kyle M. Lancaster, Jason Shearer, Eckhard Bill, William W. Brennessel, Frank Neese, Shengfa Ye* and Patrick L. Holland*. Chem. Sci. 2019, 10, 918-929. (Selected for the themed collection: Celebrating the Chemical Sciences in India - Leaders in the Field Symposium 2020) [Link]
12. Theoretical Insights into the Nature of Oxidant and Mechanism in the Regioselective Syn-dihydroxylation of an Alkene with a Rieske oxygenase inspired Iron Catalyst
Lisa Roy*, ChemCatChem 2018, 7, 3683-3688. [Link]
11. Lewis Acid Promoted Hydrogenation of CO2 and HCOO- by Amine Boranes: Mechanistic Insight from a Computational Approach
Lisa Roy*, Boyli Ghosh and Ankan Paul*. J. Phys. Chem. A 2017, 121, 5204-5216. [Link]
10. Ligand Rearrangements at Fe/S Cofactors: Slow Isomerization of a Biomimetic [2Fe-2S] Cluster
Marie Bergner, Lisa Roy, Sebastian Dechert, Frank Neese, Shengfa Ye* and Franc Meyer*. Angew. Chem. Int. Ed. 2017, 56, 4882-4886. (Selected as HOT Paper) [Link]
8. Mechanistic Details of Ru-bispyridylborate complex catalyzed dehydrogenation of ammonia-borane: The Role of pendant Boron Ligand in catalysis
Sourav Bhunya, Lisa Roy and Ankan Paul*. ACS Catal. 2016, 6, 4068-4080. [Link]
9. High‐Valent Iron‐Oxo and‐Nitrido Complexes: Bonding and Reactivity
Bhaskar Mondal, Lisa Roy, Frank Neese and Shengfa Ye*. Isr. J. Chem. 2016, 56, 763-772. (Invited for a Special Issue: New Frontiers in Bioinorganic Chemistry) [Link]
7. A Serendipitous Rendezvous with a Four-Center Two-Electron Bonded Intermediate in the Aerial Oxidation of Hydrazine
Ambar Banerjee, Gaurab Ganguly, Lisa Roy, Shubhrodeep Pathak and Ankan Paul*. Chem. Eur. J. 2016, 22, 1216-1222. (Selected as Frontispiece) [Link]
4. Self-Assembly of Carboxylic Acid-Appended Naphthalene Diimide Derivatives with Tunable Luminescent Color and Electrical Conductivity
Mijanur Rahaman Molla, Dominik Gehrig, Lisa Roy, Valentin Kamm, Ankan Paul*, Frederique Laquai and Suhrit Ghosh*. Chem. Eur. J. 2014, 20, 760-771. [Link]
3. The Role of Solvent and of Species Generated in Situ on the Kinetic Acceleration of Aminoborane Oligomerization
Tanmay Malakar, Lisa Roy and Ankan Paul*. Chem. Eur. J. 2013, 19, 5812-5817. [Link]
2. Breaking the Myth of the Recalcitrant Chemisorbed Hydrogens on Boron Nitride Nanotubes: A Theoretical Perspective
Lisa Roy, Samyak Mittal and Ankan Paul*. Angew. Chem. Int. Ed. 2012, 51, 4152-4156. [Link]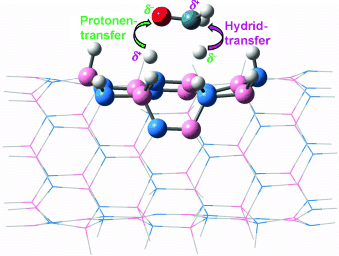 1. Changing Lanes from Concerted to Stepwise Hydrogenation: The Reduction Mechanism of Frustrated Lewis Acid–Base Pair Trapped CO2 to Methanol by Ammonia–Borane
Lisa Roy, Paul M. Zimmerman and Ankan Paul*. Chem. Eur. J. 2011, 17, 435-439. [Link]
39. Pd(II)-Catalyzed Oxidative Naphthylation of 2-Pyridone through NH/C-H Activation using Diarylacetylene as Uncommon Arylating Agent
Satabdi Bera, Aniruddha Biswas, Juthi Pal, Lisa Roy, Supriya Mondal and Rajarshi Samanta*, Org. Lett. 2023, 25, 1952-1957.
38. A convenient route to vinylogous dicyano aryl based AIEgen with switchable mechanochromic luminescence property
Saurajit Ghosh, Himanshi Bhambri, Ajeet Kumar Singh, Sanjay K. Mandal, Lisa Roy and Partha Sarathi Addy*, Chem. Commun. 2023, 59, 4463-4466.
40. Photodecarboxylative C–H Alkylation of Azauracils with N-(Acyloxy)phthalimides
Satya Pakash Panda, Sudhir Kumar Hota, Rupashri Dash, Lisa Roy and Sandip Kumar Murarka*, Org. Lett. 2023 (Accepted)
41. Probing Molecular Chirality on the Self-Assembly and Gelation of Naphthalimide-Conjugated Dipeptides
Soumen Kuila, Ajeet Kumar Singh, Akash Shrivastava, Sukantha Dey, Tukai Singha, Lisa Roy, Biswarup Satpati and Jayanta Nanda*, J. Phys. Chem. B 2023 (Accepted)